By Nick Schwein
Shouse Wins URSS Wheatshocker Crown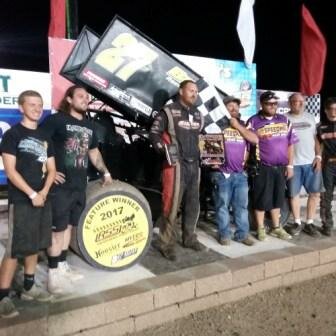 A night earlier, Andy Shouse joked that he needed more laps around the dirt oval at RPM Speedway in Hays since he hadn't raced there for several years.
Apparently, Shouse is a quick learner.
On Sunday night, the 305 sprint car driver from Mustang, Okla., walked away with a victory and $2000 in the ninth Wheatshocker Nationals in Hays. He also took home the Custom Pit Boss Smoker Grille presented by Lance Pittman of S&W Supply for being the high point driver of the Wheatshocker weekend.
Shouse made a late charge en route to finishing second during Saturday night's qualifier. On Sunday, he drew the fourth starting spot.
"To be honest, we really just do our basic stuff," Shouse said about being so fast at the 3/8-mile oval. "I think the big thing is we don't really race at one race track all the time. We usually travel all over and see a lot of different places. I think that definitely helps us when we come to someplace new. It's always tough when you get locals who have run at this race track a number of times. But we're usually pretty good when we go to a new race track of getting it figured out in good time." Click here for the rest of the story and results
---
Richardson Wins URSS Wheatshocker Prelim
Steven Richardson has been so close to winning the Wheatshocker Nationals in the past.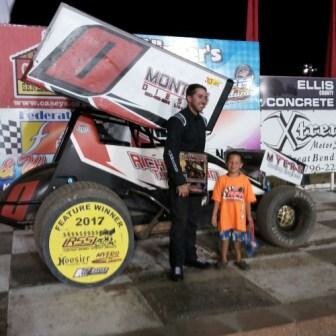 He remembers that race all too well from 2015.
"About a foot or so," the Liberal sprint car driver said about finishing second to Zach Blurton in a photo finish.
So Richardson isn't shy about what it would mean to win the national race at RPM Speedway in Hays — along with the $2,000 payout and an expensive grill as an added bonus.
"Man, honestly, if I were to sweep the Wheatshocker Nationals and take home the grill and the money (Sunday) ... " Richardson said, trailing off a bit. "Because I love this place so much. The fans here are awesome, and the stands are always packed full. People that come to race here are great. This would be huge. This is my Knoxville Nationals. If that means anything to most racers, that's how important it is. I wish we could race here more often. I would never leave." Click here for more.....