URSS Lock And Load for Calhan CO.
The United Rebel Sprint Series (URSS) is locked and loaded for the first National points show to be held in the state of Colorado at El Paso County Speedway in Calhan CO during the High Plains 305 Nationals this Friday and Saturday, August 22nd and 23rd.
The best of the best will head to the ¼ mile oval in Colorado this Friday and Saturday and Founder and Promoter, Rick Salem, feels this weekend will be the highest car count and by far the best show ever held in the state for many years.
"The Colorado drivers have done a good job this year coming out to support the National shows in Kansas and I feel we'll get a good bunch of Kansas region cars to come out and support them in their first ever National show in Colorado." said Salem. The Saturday night feature will pay $1000 to the winner along with a minimum $200 just to start the 30 lap A feature.
The race is also being sponsored by KW Schramek Landscape Materials, Benson Floor Coverings and USA Performance Engines.
Colorado's own Jake Bubak, who is currently leading the Kansas and National points races will lead the Rebels into Calhan with many laps of experience on the tight ¼ mile oval. He will face the toughest competition yet as Liberal's Steven Richardson, Jetmore's Zach Blurton, Green River Wyoming's Zac Taylor, Belleville Nationals winner Luke Cranston, past two time champion Brian Herbert and a host of URSS's best will be on hand, all vying for the $1000 winners share.
Races start at 6pm on Friday and 5pm on Saturday. You can also listen to all the action live on racinboys.com both Friday and Saturday.
---
Luke Cranston Still The URSS Boss at Belleville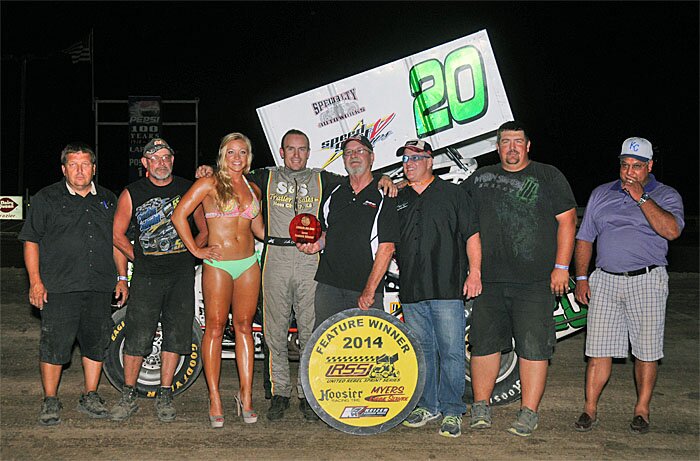 photo compliments of Lonnie Wheatley
Luke Cranston once again showed his dominance at the Belleville High Banks in Belleville, Kansas, as he captured The United Rebel Sprint Series 305 Nationals Crown taking home a $2,000 pay check against a stellar field Saturday night.
Dodge City's Keefe Hemel and rookie Jed Werner brought the field to the green flag with Hemel's car stumbling on the start, allowing 3rd position starter Ray Seemann to jump out to an early lead with Werner 2nd and sixth starter Cranston already to 3rd, Zach Blurton in 4th and Brian Herbert in 5th after lap 1.
On lap 2, Blurton would make a bold move on the bottom in turn 2 to overtake both Cranston and Werner with Cranston making a pass around Werner on the front straight to move into the show position.
---
Bubak wins at the Bullring
50 Jed Werner / 9x Jake Bubak
La CROSSE -- Trying to tame the quarter-mile "Bullring" known as Rush County Speedway can be a daunting task, leaving some drivers shaking at the knees.
Jake Bubak isn't one of those drivers, though. Instead, the young driver from Colorado grabs the bull by the horns and proceeds to do what he does best at the track -- drive a sprint car.
That's exactly what Bubak did Friday night at the Bullring Nationals in La Crosse, and it led to his sixth United Rebel Sprint Series feature win this season.
"You just have to be really aggressive," Bubak said. "It just fits my driving style, I guess."
Bubak didn't shine right away -- well, at least until the first lap was finished.
He started 10th in the 30-lap feature and was seventh after the first circuit.
---
SCHEDULE ALERT !!! Due to circumstances beyond my control I am forced to cancel the August 15th, 16th and 17th races in McCook and Oberlin. This is the hardest thing to have to do but I cannot take the chance of putting you guys in the same position I find myself in with checks that won't clear. Sorry for any inconvenience and I hope you all understand my situation and how hard this was to do...Rick