Jason Martin Takes Home His Third Bullring Nationals Win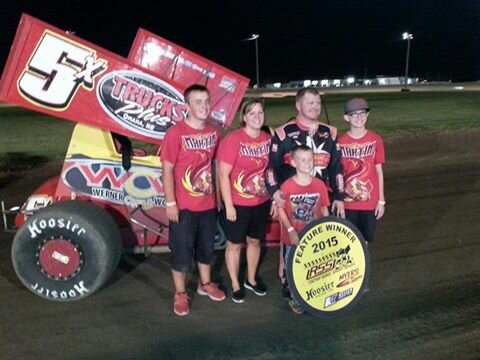 Each year the drivers of the United Rebel Sprint Series make the trek to their favorite track of the series. The lightning fast ¼ mile oval in Lacrosse Kansas affectionately dubbed "The Bullring" to slug it out for 30 'elbows up' laps of racing. This year's event was no exception as twenty three teams made the pull for the 2015 Myers Engine URSS National Points Series event with the eyes on the win. This year's race had an extra incentive as Miller Trucking awarded a Treager Grill to the driver who passed the most cars for the evening as well as paying an extra $75.00 to each of the Heat Race and Dash winners.
Greeley Colorado racer Austin Mclean led the field to the green with Jeremy Huish, Brian Herbert, Steven Richardson and JD Johnson rounded out the top five. Before lap two was in the books Craig Jecha spun in turn two with Mclean simultaneously spinning in turn three to bring out the first yellow of the night. On the restart Huish jumped out to the lead with Richardson, Herbert, Johnson and Koby Walters making up the top five. Back in the pack Luke Cranston and Jason Martin started their charge to the front with Cranston taking over the fifth spot on lap four with Martin racing his way to the seventh position. Caution waived again on lap as Jecha spun for a second time in turn four. Click here for more.....